Awesome, ready-to-go math lessons await!
 Embark on a journey that ignites curiosity
 and inspires deeper learning.
Enter your details to start your one week free trial.
Why Awesomenicity?
Math should be an exhilarating adventure. Our lessons will captivate your imagination and inspire you to explore the boundless wonders of mathematics.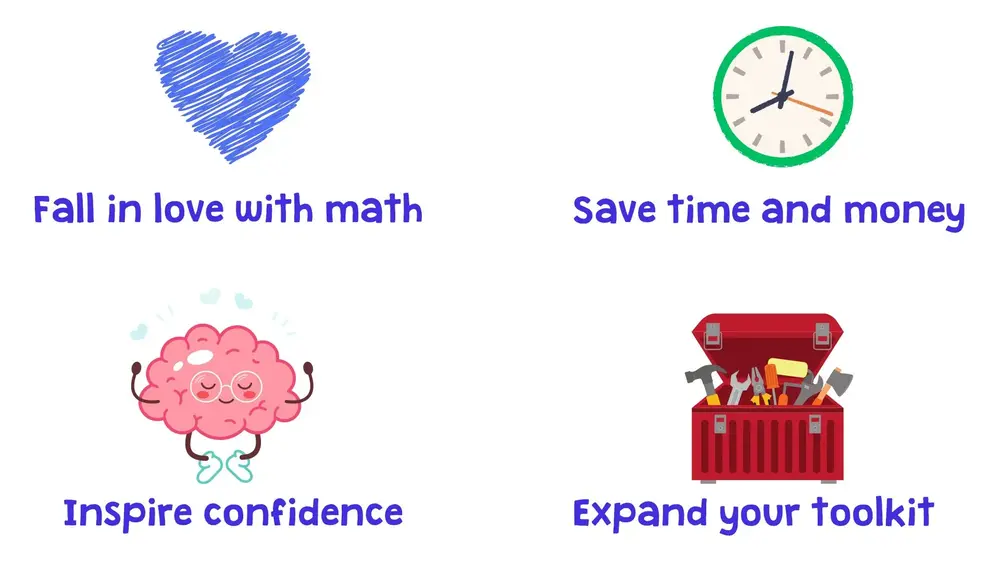 Awesome
for teachers
Ready-made, thought-provoking, differentiated lessons that will unlock your students' full potential and save you oodles of time.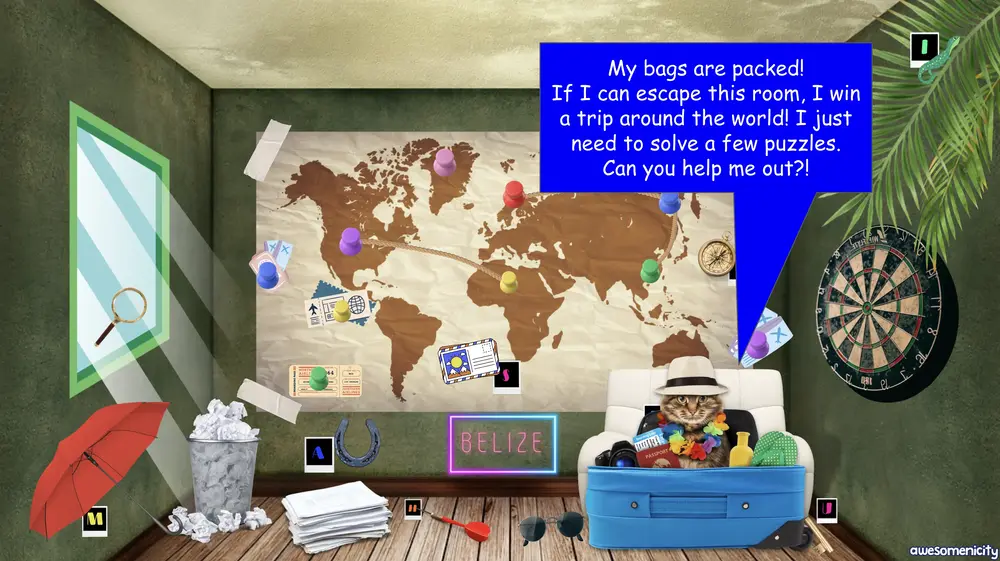 Awesome
for home
schooling
High-quality, curated lessons that inspire students to persevere through challenges, develop a growth mindset and embrace the joy of learning. No prep. No sweat.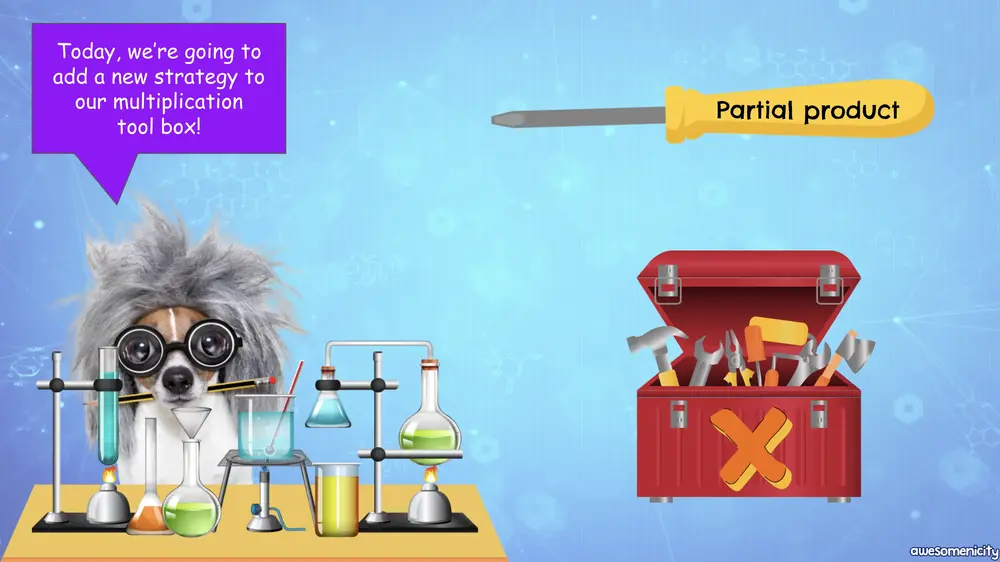 Awesome
for tutoring
Provide enriching activities that guide your students to develop skills that extend far beyond tutoring sessions.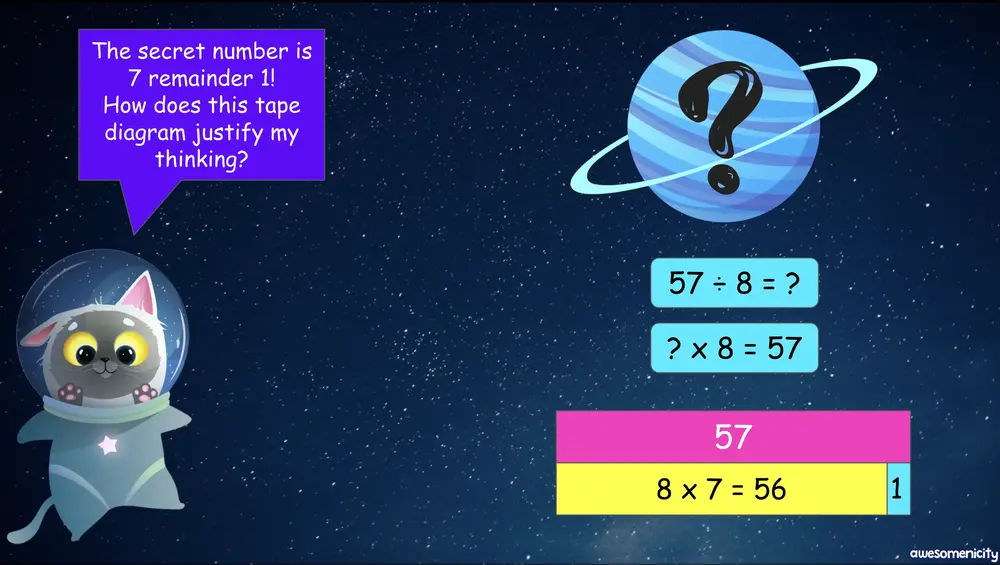 Awesome
for kids
Foster critical thinking and promote problem-solving skills whilst funny, heartwarming animals take you on an epic math journey.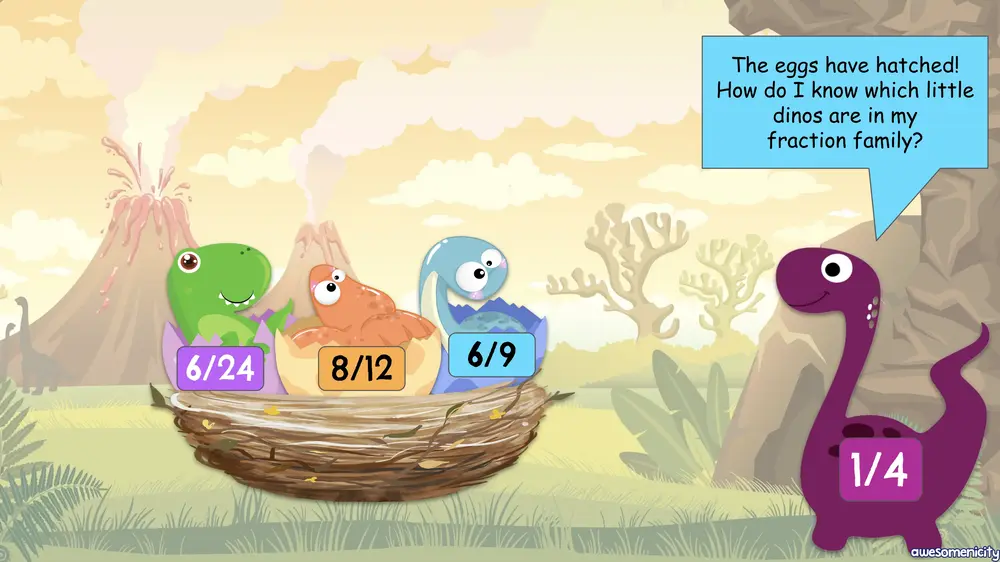 Frequently Asked Questions
Who can use Awesomenicity?
Awesomenicity is for everyone!
Teachers can use Awesomenicity to deliver complete, inquiry-based lessons that are differentiated, engaging and designed to encourage independent, curious learners.
Homeschooling parents can use Awesomenicity as a one-stop-shop to provide students with lessons that can be completed independently or with your guidance.
Tutors can use Awesomenicity to deliver high-quality tutoring that focuses on specific learning outcomes.
For independent lessons that students can complete on their own, sign up for Awesomenicity as a parent.
For classroom-based lessons that require an adult to deliver them, sign up for Awesomenicity as a teacher.
How does Awesomenicity work?
Every Awesomenicity lesson follows the same pattern.
Starter activity: a flashback or recap of previous skills that students might have learned.
Input/inquiry: students explore and learn new skills through open-ended questions, modelling and engaging practice.
Activity: students take the new skills they have learned and apply them to an activity or game that can be completed in class or at home.
Teacher-based lessons also provide a plenary question or activity that encourage students to reflect and share their learning.
How is Awesomenicity organised/laid out?
Awesomenicity is organised into different math topics. Currently, these include place value, addition, subtraction, multiplication, division, fractions and measurement. Upcoming topics include; probability, shape and space and data handling.
How is Awesomenicity aligned to a curriculum?
Our lessons have been informed by curricula and learning standards around the world (UK, USA, Australia, International Baccalaureate) to ensure that all learning standards are met, no matter where you are in the world.
How does Awesomenicity track students' learning?
Students' progress on the home lessons is tracked and parents can view the percentage of lessons completed.
The differentiated activities inform teachers/parents where students are in their learning journey and can be used as a formative assessment.
Why is Awesomenicity different?
Awesomenicity uses inquiry-based learning and bright, creative lessons that promote enthusiasm, critical thinking and problem-solving skills.
Affordable, world-class lessons you would expect from a costly international school.
Awesomenicity is rich and challenging for all learners.
We have thoughtfully differentiated every lesson and activity for all learners to experience challenges and success.
It saves you time: ready-to-use lessons that require no prep.
Awesomenicty has everything you need to deliver an engaging lesson, without compromising on quality.
What do I need if I subscribe to Awesomenicity?
Other than an awesome attitude? Not much! We have deliberately designed lessons to minimise the amount of resources needed. Each lesson has a resource list to help you easily plan for what you will need. Simple items from around the home or classroom can be used, such as playing cards and dice. There are also ready-to-go, differentiated printables that can be used to accompany each lesson.
What subjects does Awesomenicity offer?
Awesomenicity lessons have been carefully crafted by 3 experienced, enthusiastic, international teachers. We have dedicated hours towards creating each lesson, so that you don't have to! We are a platform made for teachers and parents by teachers, not business people. Therefore, we are starting small with math for grades 2-5 (years 3-6). New topics are being added regularly. We then plan to move to other subject areas and year groups as we grow!
What do you provide me with in order to deliver a lesson?
Parents: Parents have everything they need to deliver a high-standard lesson for homeschooling or for their child to complete as homework. We have designed home lessons without the need for printing. Although, we have printable versions if parents and students prefer. We have included a detailed 'top-tips' plan with each lesson to help you best guide your child. Just load the slideshow and let our friendly animals guide you on an exciting learning adventure.
Teachers: We provide everything you need to deliver an effective lesson including a detailed lesson plan, visual slides to deliver the lesson and any printables required. Just log in, load your slideshow and print what you need!
Can I sign up for multiple students and multiple grade levels?
Absolutely! As a parent, you can create a profile for each of your children. Each additional child is offered at a discounted rate.
As a teacher, you can sign-up for as many grade levels as you would like. Each additional grade level is offered at a discounted rate.
Can I cancel my subscription?
You can cancel your subscription at any time. You will still have access to lessons for the remainder of your current subscription.
Is there a free trial to explore Awesomenicity?
Yes! If you sign-up to Awesomnicity, you get a free 7-day trial to explore and try out a handful of lessons. Once your free trial ends, you will be charged a monthly or yearly fee based on your subscription plan.
Love what you see? You can skip the free trial and unlock all of Awesomenicity's lessons.
Spelling/measurement/money
The lessons have been designed primarily with the international school system in mind. Therefore, the spelling, measurement system and currency is based on what would typically be taught in the international school system.
Don't use Uk English spelling in your lessons? Use this as an opportunity to discuss how you would spell a particular word in your country!
If lessons involve measurement, we have used the metric system.
If lessons involve money, we have used the dollar symbol. If your country doesn't use a dollar system, treat this as an opportunity to discuss how your money system differs.
Once we grow, we will have dedicated lessons for US spellings, measurements and different currencies.
Do I need to follow Awesomenicity's order of lessons?
We want Awesomenicity to work for you! While we have organised our lessons in a progressional order, you might want to pick and choose what you do. Go for it! We are simply guides on the side helping you to deliver awesome lessons that your students and children will love.
Dive into inspired awesomeness
Enter your details to start your one week free trial.